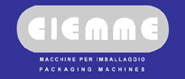 CIEMME SRL
Via Padre Meroni, 10B - 22031 Albavilla (COMO) (ITALY)
Founded in 1985, Ciemme designs, manufactures and installs automatic machines for the packaging and cardboard .
Thanks to the experience developed through years of work , continuous investment in human resources and new technologies, Ciemme is able to provide plant and equipment designed to measure the packaging problems for small, medium and large industries.
Every solution of system comes from the research and creativity of a team of professionals , who combine the latest technology and rigorous construction standards to customer needs .
To solve any problem of packaging , Ciemme has developed a large number of machines to ensure quality, reliability and warranty.
* Forming pneumatic or mechanical equipment for the formation of the bottom mounting boxes with interlocking or glue, with or without the turn -over rate from 5 to 150 cartons per minute;
* Crimping linear for sealing boxes with lid glued to a flap on the bottom or aggangiato * Crimping linear and at right angles to the closure of boxes with lid 3 flaps , speed up to 200 cartons per minute;
* Horizontal Cartoning intermittent or continuous automatic or manual loading of products, with production speeds from 10 to 200 cartons per minute;
* Vertical cartoning intermittent or continuous manual or automatic loading of products.
INFORMATION
complete packaging lines and their equipments