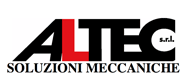 ALTEC SOLUZIONI MECCANICHE SRL - COSTRUZIONI MECCANICHE
Piazza Mazzini 3 - 48010 Cotignola (RAVENNA) (ITALY)
ALTEC SOLUZIONI MECCANICHE: RELIABILITY, ACCURACY AND QUICKNESS FOR USED PLANTS, HIGH TECHNOLOGICAL CONTENTS INSTALLATIONS
Altec Soluzioni Meccaniche S.r.l. was born out of the passion and enthusiasm of its founder, strong with his personal experience and with that of his collaborators, each from a different area of expertise, acquired in years of activity in the field of used plants and machines for packaging, filling and food and beverage.
"My dream consisted of the ambitious project of giving life to a dynamic company that was in line with the present, oriented to used plants and technological novelties too and extremely attentive to the needs and requirements of its own clients", says the founder, "and today Altec is acknowledged both in Italy and abroad, supported by 360° assistance all over the world".
Assembly of automatic machines for third parties
Altec offers all the know-how it has acquired over the years in order to ensure reliability, accuracy and quickness in used plants and in creating mechanic installations with high technological contents. The company's technicians can manage any order, project and assembly operation, and offer assistance to technical offices and final clients alike.
In the area prepared for the assembly, Altec has wireless PC stations for each line, in order to monitor the works, add variations to drawings and discuss modifications with technicians; it is also possible to carry out interventions on the software during the final testing, even from remote external stations.
Building of automatic machines for third parties and final users
Thanks to its history of countless technical interventions and projects, Altec has the know-how required to produce systems according to its client's specific requirements.
Maintenance, revisions, system modifications for the food and beverage industry
Altec carries out retrofitting and maintenance on industrial machines, applies PLC and brushless systems, revises and performs maintenance operations on all kinds of machines, either at its own headquarters or at the client's premises.
"Old" machines often operate well from the technical point of view, but are outdated in terms of mechanics, electronics, PLC.
By revising and updating the mechanic parts of a machine, replacing or installing electronic parts, PLC and latest-generation sensors, it is possible to obtain a machine that is practically new, at a cost equal to about 20% of a newly manufactured one.

INFORMATION
Machinery and plants for the food and beverage industry; packaging machines, packing machines, filling machines, bottling lines
Food and beverage industry
CONTACT ALTEC SOLUZIONI MECCANICHE SRL - COSTRUZIONI MECCANICHE