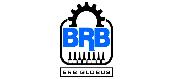 BRB Globus

- LABELLING

Via Industria, 20/22 - 46047 PORTO MANTOVANO (MANTOVA) (ITALY)
The type of BRB Globus labeling machines is able to meet all the decorative needs of customers with precision and cost-effectiveness.
At our clients' service, our strongest points are: tailor made design, technically and technologically advanced and reliable components.
The BRB Globus labeling labels are the precision and reliability of all models produced regardless of production speed or number of applications.
Efficiency achieved thanks to the ease and speed of bottle and / or label change, ease of operation, maintenance and cleaning.
The production of BRB Globus includes: packaging for canning industry, automatic food labeling industry, labeling and packaging beverage industry, labeling and packaging for dairies,
Oil industry labeling lines, labeling machines, drinking industry tapers.
INFORMATION
Linear labelling machines and otary labelling machines
Mechanical orientation Opto-electronic orientation