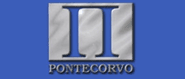 PONTECORVO SRL

- PACKAGING

Via Vescovado (casa Sasso), 44 - 84014 NOCERA INFERIORE (SALERNO) (ITALY)


Now the firm is a dinamic reality that seek to be successful on national and european market, strong of ten years of experience in different fields and with high level and prestige references.

Always with challenge taste, following the way of quality and customers satisfaction.

Officine Pontecorvo specialized in constructioning industrial, operator and packer machines

Known for the quality of operator machines for fruit working, it puts itself at the attention of firms, not only italian, also with its complementary and packer, whether vertical or horizontal, machines.


Pontecorvo S.r.l. born on 1991 from mechanics passion of two entrepreneurs with inclination to technological innovation.
INFORMATION
operator and packer machines