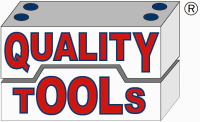 QUALITY TOOLS SRL

- PRESS LINES FOR PACKAGING

Via Trento, 175 - 25020 Capriano del Colle (BRESCIA) (ITALY)
Established in 1978, with more than 40 years' experience, QUALITY TOOLS has emerged as the leader in supplying equipment for the aluminum and paper container industry.
The company specializes in the design and manufacture of complete lines and tools for production of aluminum foil containers and paper containers with and without rims for food products.
At the beginning the activity included the design and construction of moulds for the production of aluminum containers.
In 2005, the technological evolution reaches its peak with the setting up of the T130 press, one flagship of the production of Quality Tools.
On 2008 was born the TCR press, which is recognized with the International Patent for both the machine and the moulds to produce paper containers with rim.
The high level of technology is also recognized by the industry trade press and the industrial giant Siemens which collaborates in that important project with the company.
One of this innovation is for sure the new revolutionary TSP press, that has been designed and developed for the production of aluminium and paper food containers, dishes and trays. Servo press is characterized by maximum flexibility, high production rates and energy saving.
Nowadays Quality Tools is developing a new servo press of even greater capacity, the TS180, which will be able to produce both aluminum and paper foil containers, maximizing productivity.
QUALITY TOOLS' flexible organization allows customized services for technical requests including Research & Development and Service Assistance programs for customers.
Its plant is located in Capriano del Colle, close to Brescia (Lombardia).

DOWNLOAD AREA
CONTACT QUALITY TOOLS SRL