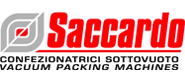 SACCARDO ARTURO FIGLI SRL
Via del Lavoro 15 - 36016 Thiene (VICENZA) (ITALY)
Company SACCARDO was born in 1965, from then on Saccardo has been a leader Company on the field of vacuum packaging and meat cut specializing on the production and development of machineries like small, medium and large vacuum packing machines, termoshrinking tunnels, thermoforming and chop cutters.

The 40 years experience on that sector makes this company an important datum point for the Italian and International Market.

Saccardo Company is young and dynamic and able to grant the maximun reliability in terms of quality and safety being ready and open to study new solutions that satisfy the different market exigencies.

CONTACT SACCARDO ARTURO FIGLI SRL