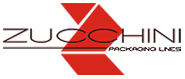 ZUCCHINI MACCHINE AUTOMATICHE SRL
Via Anna Magnani 5/B - 40013 Castel Maggiore (BOLOGNA) (ITALY)
Zucchini located in Castel Maggiore (Bologna) in the heart of the packaging valley has been active in the Packaging Industry for nearly fifty years and sold more than 4,000 machines. The Company is firmly established as a supplier of reliable automatic packaging machines and customised solutions.
The impetus given by the new proprietors now managing the Company, combined with the high standard of skill of the existing design engineers has enabled us to:
rationalise and modernise the existing machines
develop a new line of machines using the most up to date electronic technology.
At present, Zucchini are able to offer:
Vertical case packers and modern "pick and place" systems
Horizontal and wrap-around casepackers
Anthropomorphous and portal palletisers
Bundle formers and shrink wrappers
Tray and lid formers
Software for line optimization
INFORMATION
automatic packaging machines
Vertical case packers and modern "pick and place" systems Horizontal and Anthropomorphous and portal palletisers Bundle formers and shrink wrappers Tray and lid formers Software for line optimization
CONTACT ZUCCHINI MACCHINE AUTOMATICHE SRL