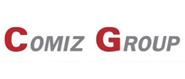 COMIZ PACKAGING SRL

- PACKAGING

Via Lago di Alleghe, 15 - 36015 Schio (VICENZA) (ITALY)
Packaging srl has long-term experience in the business of manufacturing packaging machinery. Comiz Packaging srl, thanks to constant up-dating of design and production equipment, uninterrupted dialogue with customers and their specific requirements and a surprising ability to propose optimum solutions, has become a leader in its sector and one of the key suppliers of important European industrial groups.

Each single component is the result of research with modern data-processing systems. These guarantee reliable calculations and drawings and undergo severe testing before being marketed.

Product excellence is the final result: high quality, reliable and durable products, perfected by innovative modern technology and continuously evolving together with the market they refer to.

Comiz
CONTACT COMIZ PACKAGING SRL