CT PACK SRL

- CASE-PACKING MACHINE

Via Argine Volano, 355/D - 44034 Fossalta di Copparo (FERRARA) (ITALY)
FOTO DI
CASE-PACKING MACHINE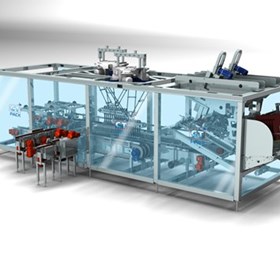 All In One end of line Case-packing Machine

The integrated "All-In-One" case-packing unit is the last result obtained merging CT Pack experiences in robotic top loading and case/box forming and sealing systems.
The system merges together in a single frame and logic the functions of carton forming, carton filling and carton sealing.
CT Pack, besides the single infeed "All-In-One case-packer" can provide also the double infeed unit. The double product infeed lanes are of course totally independent, the forming operations are indeed executed by servo driven tools while the top loading and carton sealing are equipped with dedicated delta robot and dedicated gluer/taper device.

The machine is able to handle cartons, trays, boxes and cases of different shape and formed by blanks. The running speed in cartons/minute for a dual lane All-In-One case-packer is around 40, while in terms of incoming production capacity the dual lane unit can run over 1.000 products/minute.

The machine follows an "in-line" concept avoiding where is possible every kind of 90° transfer/movement. Even with a complete integrated line the accessibility is guaranteed by the smart disposition of components and guards openings.

Easy and very well displayed on touch screen panel messages, make this machine user-friendly for operator and maintenance teams.
DOWNLOAD AREA