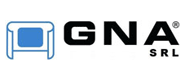 GNA PACKAGING SRL
Via Progresso, 15 - 40064 OZZANO EMILIA (BOLOGNA) (ITALIA)
GNA Srl Divisione Packaging is a company specialized in the production of working and packaging systems for products of food industry.

Our product range consists of:

* packaging machines for stretch film
* horizontal flow-pack packaging machines
* vertical packaging machines
* Thermo-top Sealers
* complete packaging lines
* systems and lines for processing and packaging of fresh-cut produces

Each machine or plant is made of high-grade materials and is the result of research committed to achieve the state-of-the-art technological level.

The experience gained through many years of work in direct contact with our customers has taught us the importance of meeting customer needs promptly and offering them, by means of structural analysis, project development, business consultancy, pre and post-sales service, versatile solutions to satisfy all their requirements.

INFORMATION
Packaging machines for stretch film, horizontal flow-pack packaging machines, vertical packaging machines
Thermo-top Sealers, complete packaging lines systems, lines for processing and packaging of fresh-cut produces
CONTACT GNA PACKAGING SRL