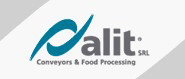 ALIT Srl

- AUTOMATION SOLUTIONS FOOD INDUSTRY

Via Dante, 170/B - 35010 Santa Giustina in colle (PADOVA) (ITALY)
Automation solutions food industry
Italy, and Veneto in particular, has the highest concentration of specialists in the automation solutions food industry.
In 1999, thanks to the experience gained in a 50 years history company, a group of engineers and friends realized that the market
was ready for a new revolutionary spiral automation solutions food industry that opened the door to the development of a family of products sharing the same
smart idea.

Simplicity comes from experience.

The new automation solutions food industry was introduced to a new company and the People-Product-Technology philosophy.
After a few years ALIT became a company and an authority in the market. Automated systems, handling, cooling, freezing, proofing and pasteurizing are the proposed programs that cover a full range of processes.
Nowadays 54 people are involved in the company business, serving more than 700 customers worldwide.

Becoming the specialist in the management of thermal process and integrated automation solutions food industry thanks to a complete variety
of products.
We see the possibility to achieve this result with a two ways strategy: Taylor made automation solutions food industry to partner with the customers and the Ready to...
modular program that fits with the most frequent production needs.

Our resources to reach this goal are:

People as a competitive advantage: We say "team member" not "employees" because our people are a tresured resource to be invested in, not expenses to be managed. Our teamwork is essential to succeed in helping customers.

Safety care: Safe Products means safe business for our customers.

Ethics: Honesty, trust and integrity are not just the responsibility of our senior leaders and our board of directors. We're all responsible for our results.

Customer care: We listen to our customers, turning their needs into the right automation solutions food industry, putting their suggestion into practice. We are aware of customers demand in a global market that evolves continuously.

Right solution: It means giving the rightly d units for the purpose.

Right value: effectiveness and efficiency for your investment.

Enviroment: make good use of the latest technology to care of our world.
INFORMATION
Handling, cooling, freezing, proofing, pasteurising, seasoning and heating.