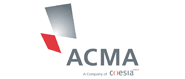 ACMA USA - CANDY PACKAGING FLOW PACK
501 Southlake Boulevard - 23236 Richmond (U.S.A.)
Acma has been a member of the Coesia group since 1986, and boasts over 90 years of experience in the automatic machinery industry, being the founder of Bologna's Packaging Valley Department. Today M.C. Automations, TecnoSweet and Tecnomeccanica are part of Acma. Altogether the Group has a annual turnover of 86 million Euro and counts over 400 skillful employees. Acma successfully operates in the confectionery, food, chemical and personal hygiene industry.

Acma business activities are ramified into six core competencies, each related to different commodity sectors:
• Confectionery and Bakery  candy packaging flow pack, packaging machines of sweets, packaging of chewing gums and packaging of biscuits
• Chocolate & Wafer  chocolate moulding machines and packaging of chocolates and wafers
• Food Filling  packaging of liquid food products (oil, dairy, ketch-up, mayonnaise, beverage)
• Soap & Powder  packaging of soap and detergent powder
• Chemical Filling  packaging of homecare and chemical liquid products
• Tea Bags  packaging of tea bags.

Acma will be participating at Interpack on the Coesia stand in Hall 6 and will show the following equipment :
• NEW ! SP0 flow-pack machine for biscuits
• NEW ! M888 wrapper for chocolate pralines and candies.
• NEW ! MC4TB wrapper for chocolate tablets.
• NEW ! SP2 flow-pack machine for chocolate bars, candy packaging flow pack.
• NEW ! TSW moulding line and Buffer for chocolate products.
• T2 tea bag packaging machine.
• WM bottle filling and capping monobloc machines for liquid food products.
• 771DL wrapper for solid soaps.

The machines on show will feature cutting-edge technological solutions, with applications in numerous packaging sectors. Acma, through the acquisition of M.C. Automations and TecnoSweet, expresses increasingly greater commitment and know-how in chocolate process and packaging technologies. A live demo will be on show at Interpack : the machines M888, MC4TB and SP2 will be linked with the chocolate moulding line for packaging of different chocolate products into several presentations.
The candy packaging flow pack machines are also available in the configuration for the wrapping of solid soaps and detergent tablets.
The secondary packaging will not be on show, but a large screen located in the Acma space will show the most significant end of line packaging systems delivered by TecnoSweet.
ACMA is part of COESIA, a group of innovation-based industrial solutions companies operating globally and headquartered in Bologna, Italy. Coesia's companies are leaders in the sectors of
• Advanced automated machinery
• Quality inspection & printing systems
• Precision gears
Coesia's customers are the leading players in Health & Beauty, Consumer Goods, Tobacco and Aerospace & Racing industries
COESIA Group consists of twelve Companies: ACMA, ADMV, CIMA, CITUS, G.D, GDM, Hapa, KALIX, Laetus, Norden, SACMO and VOLPAK. The group has 36 operating units, manufacturing factories in 12 countries (Italy, Switzerland, Germany, Sweden, Spain, France, Turkey, India, China, Indonesia, USA, Brazil), 21 branches, a turnover of 871 million euro (2010) and over 3740 employees.
Historically, the first company of the Group, G.D, was founded in 1923 for the production of motorcycles. Since the early Forties, the creativity and inventiveness of the Seragnolis became the driving forces in the development of the Company in the packaging machines sector, first in the food and hygene industries, then in the tobacco field. More recently, the Group grew into new areas, represented by high-speed milling systems, high-performance gears, printing and vision control systems for the pharmaceutical packaging industry, which offered interesting prospects and business opportunities.
Today, COESIA Group members have reached a leading position in all sectors in which they operate. COESIA's strategy of continual investments in R & D and its commitment to supplying customers value-added solutions to their requirements has made it one of the most successful international industrial Groups.

INFORMATION
Candy packaging flow pack, packaging machines of sweets, packaging machines for chewing gums, packaging machines for biscuits, chocolate moulding machines packaging machines for chocolates, packaging machiens for wafers, packaging machines for liquid food products, packaging machines for oil, packaging machines for dairy, packaging machines for ketch-up, packaging machines for mayonnaise, packaging machines for beverage, packaging machines for tea bags
Confectionery, bakery, chocolate, wafer, food filling, liquid food products, tea bags
CONTACT ACMA USA - CANDY PACKAGING FLOW PACK