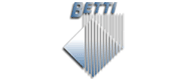 BETTI SRL

- PACKING MACHINES

Via Malpighi, 30 - 48018 Faenza (RAVENNA) (ITALY)
packing machines since 1955. Today its customers can rely on a wide range of vertical cartoning machines, filling machines for jars and plastic cans, of case-packer machines for american case, of wrap-around case-packer machines, of tray forming machines and of packing machine into shrink- wrapping film capable of meeting any working requirement and producing up to 450 cartons per minute, 120 jars/per minute, 32 cases per minute and 40 packs per minute, depending on the models.
It is produced multi-function machines by the use of modular compositions permitting to pack different products and with different systems utilising one only machine, with a very quick size changing.
Up to now more than 2.000 installations have been set up. All of them are overseen by a technical-commercial network operating in the largest countries in the world.
The Company BETTI has been present on the market with its
INFORMATION
Vertical cartoning machines, filling machines, case-packer machines, forming machines