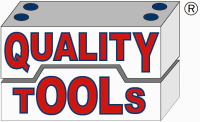 QUALITY TOOLS SRL

- PRESS LINES FOR PACKAGING

Via Trento, 175 - 25020 Capriano del Colle (BRESCIA) (ITALY)
PRESS LINES FOR PACKAGING

With more than 30 years of experience and customers around the world, QUALITY TOOLS has emerged as the leader in supplying equipment for the aluminium containers industry. The company specializes in the design and manufacture of complete lines and tools for press lines for packaging and production of aluminium containers and aluminium foil containers and paper containers with rims for food products.

In addition, QUALITY TOOLS has extensive experience in special applications such as the manufacture of complete lines and tools for sealable SMOOTH WALL and PET FOOD containers. Efficient production lines include press lines for packaging up to 130 tons and strip widths up to 1.050mm. Highly productive multi-cavity tools can feed automatic multi-lane stackers at the end of line.

The QUALITY TOOLS factory is equipped with modern machine tools including the HAUSER jig grinding machine; FIDIA high speed milling machine; and the CHARMILLES wire cutting machine. QUALITY TOOLS takes pride in its highly skilled design and production team, assuring complete customer satisfaction.
QUALITY TOOLS' flexible organization allows customized services for technical requests including Research & Development and Service Assistance programs for customers.

QUALITY TOOLS produces complete lines of aluminium foil containers, press lines for packaging and tools to satisfy market requirements for the highest level of technology and reliability.

QUALITY TOOLS continuously invests in research and development to optimise the performance and reliability of their equipment and tools. The technical department works with CAD and CAM and the latest technologies to maintain a high level of expertise. Constant and mutual cooperation between the customer and QUALITY TOOLS assures high standards and complete customer satisfaction.

Advanced machine tools, combined with the know-how of well-trained personnel, are important in reaching QUALITY TOOLS' objectives. These include the latest technology, high quality, and prompt delivery.
The press lines for packaging offer a great range of packaging solutions for such products as chilled or frozen bakery products, ready-to-serve and take-away meals.


The formability and strength of
press lines for packaging
allow a large variety of containers to be produced, including:


- Smooth-wall and sterile
- Airline
- Wrinkle wall
- Tea light
- Folded

Paper has different characteristics. QUALITY TOOLS has developed a heat forming process to produce paper containers with curled rims.

Through manufacturing, assembly and final testing, careful quality control guarantees:

- That the machines and tools are highly reliable
- That the finished containers meet the customer's specifications.

Versatility and flexibility, combined with a high level of technology, allow QUALITY TOOLS to establish long term relationships with important aluminium foil containers manufacturers worldwide. QUALITY TOOLS also supports new companies as they enter the aluminium foil containers industry.
Services supplied to the customers include:

- Tool design / Prototype
- Dedicated manufacturing equipment
- Material evaluations
- Final pre-production testing


DOWNLOAD AREA
CONTACT QUALITY TOOLS SRL