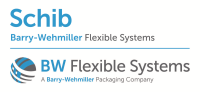 SCHIB PACKAGING SRL

- BW FLEXIBLE SYSTEMS

Viale del Lavoro 7/9 A - 36030 Monte Di Malo (VICENZA) (ITALY)
Schib Packaging S.r.l. is part of the BW Flexible Systems division of Barry-Wehmiller, a global manufacturer offering a full range of equipment for flexible packaging.
BW Flexible Systems consists of Schib Packaging, Hayssen Flexible Systems, Hudson-Sharp, Thiele, Rose Forgrove, Sandiacre and Symach - all of which collectively provide a wide range of packaging solutions, including form-fill-seal, feeding, bag filling and sealing, pouch-making equipment, flow-wrap, reclosable packaging solutions, palletizing, stretch-wrapping and more.
Since 1968, Schib Packaging has been designing, manufacturing and installing primary and secondary flow-pack horizontal packaging systems for the food and non-food industries.
In 2018, we proudly celebrate 50 years of innovation, quality and service.
Our mission is to provide our customers with trusted packaging system solutions and a lifetime of outstanding support.
We have adopted the Customer Trust initiative launched by Barry-Wehmiller to enhance the flow of value to our customers every day.
Stewarding the trust our customers place in us is part of our ongoing commitment to continuous improvement and care for all stakeholders. From the moment you contact us through the lifecycle of your equipment, we look forward to earning your deep and abiding trust!
CONTACT SCHIB PACKAGING SRL