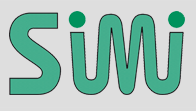 SIMI PACKAGING MACHINES SRL

- FOOD LABELLING MACHINES

Via Tagliamento, 2/E - 46045 Marmirolo (MANTOVA) (ITALIA)
SIMI PACKAGING MACHINES S.r.l. Works in the production of food labelling machines ,linear labeling machinesor rotary labeling machines, cold or self-adhesive, hot-melt, palletizers, depalletizers, squeezing machines, decassettants, molds, bottling monoblocks, bottling lines and complete packaging, new equipment on all models and brands Labeling machines.

Simi Packaging Machines also manufactures: Packaging Containers and Cheese Industry Films, Automatic Drinking Industry Labeling, Labeling and Packing for Salami Machines, Pastry Industry Labeling Lines, Food Processing Packaging & Fillers, Automatic Automatic Machine for Self-Adhesive Labels, Container Machines In aluminum.

Thanks to its many years of experience in the development of automatic machines it is able to offer you the highest quality products and extreme reliability.

Simi Packaging Machines srl offers the following services:

- Assistance on every type and brand of machines
- Line design
- Customizations
CONTACT SIMI PACKAGING MACHINES SRL