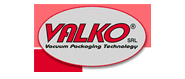 VALKO srl

- PACKAGING

Via Berlino, 1 - 24040 Bottanuco (BERGAMO) (ITALY)

Professional vacuum machines, stainless steel made, with pool sizes and packing capabilities unique on the market, satisfying restauration needs to large distribution ones.

Company attendance translates into component choice assembled onto the machines and details accuracy unite with innovative research. All this guarantees reliable and affordable presence and a serious sevice.

Valko builds all the models of its wide range inside its factory located in Bottanuco, with details accuracy that allows its machines to appear on the market with unique features, as the possibility to vacuum pack a product also outside the chamber, with no limits on product size or the possibility to apply vacuum in special containers using the external vacuum kit.


Valko projects and builds a complete range of alimentary packing machineries.
INFORMATION
Alimentary packing machineries
Restauration, large distribution