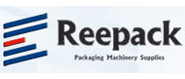 REEPACK SRL
Via dell'Artigianato 19 - 24068 Seriate (BERGAMO) (ITALY)
Reepack is a company mainly operating in the field of manufacturing packaging machinery for hermetic sealing of plastic containers making use of vacuum technology with modified atmosphere processing. We are committed to follow customer requirements as our first objective. Quality control throughout the production process ensures that we meet the specifications agreed.

Our Engineer Team is in this field of application since many years, and the good experience achieved in the past has given the right direction and strategy to be in a short time one of the most known company in manufacturing packaging machinery.

Today Reepack counts on a complete cycle of engineering and manufacture at his interior, so that every production process can be followed with a very precise work added to the flexibility need to be in the current market.

Our Know-how based on an accurate Research & Development has been our main investments in these years and continuously will be part of our investments to offer new concepts for the best solution of packaging.