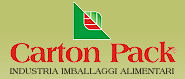 CARTON PACK srl - INDUSTRIA IMBALLAGGI ALIMENTARI
Via Adelfia Z.I. - 70018 Rutigliano (BARI) (ITALY)
The gradual development process has been underlining the presence of Carton Pack as one the most important actor of this field. Carton Pack's point of strenght are product quality, efficient service and focus on the market.
Carton Pack is active in the fruit and vegetable market since 1965 offering its customers effective and innovative packaging solutions.

INFORMATION
food, fruit and vegetable market,
20.000 mq outdoor 20.000 mq indoor
UNI EN ISO 9001, BRC/IOP and sooner ISO 14000.
CONTACT CARTON PACK srl - INDUSTRIA IMBALLAGGI ALIMENTARI