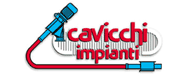 CAVICCHI IMPIANTI SRL
via Matteotti, 35 - 40050 Villanova di Castenaso (BOLOGNA) (ITALY)
It is now well over twenty years that Cavicchi Impianti srl is a well known point of reference for industrial equipment and systems for handling powders and granules. Its broad range of equipment, highly specialised, reliable and logically employed, finds concrete solutions in the conveying, mixing, dosing and weighing dry bulk solid material from pellets/granules to fine powders.

The vast experience cultivated during the many years of technological and market evolution together with the ability of being the customer's adviser, to study his problems and to offer him tailor-made solutions, render Cavicchi Impianti the ideal partner to all those companies that need to solve today's requirements with a clear prospective for the future.

The quality of products, services and technology have permitted Cavicchi Impianti to work for countless companies, known internationally, belonging to the most diversified markets: foodstuffs, plastics, pharmaceuticals, chemicals and more, wherever powders and/or granules are involved.


INFORMATION
Consultation and engineering of systems for conveying dosing mixing and weighing of raw materials
CONTACT CAVICCHI IMPIANTI SRL