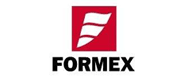 FORMEX MAQUINARIA S.A.

- HOSTELRY

VIC. 32, NAVE 5 - 08120 Barcelona (BARCELONA ) (SPAIN)
WE MANUFACTURE SOLUTIONS FOR DOSING YOUR PRODUCT
Design and manufacture of solutions for dosing, filling and decorating bakery and other food products.
Formex Maquinaria design and manufacture of doser machines, fillers and other equipment for bakeries, pastry shops and food manufacturers all over the world.
Our versatile machines are designed to help your business achieve maximum performance. They are great for applications like muffins, cupcakes, assorted biscuits, cookies, cakes, filled chocolates, salads, dressings, quiches, yoghurt, prepared meals, sauces and much more.
We are specialists in the design and implementation of production lines for the efficient and high-volume processing of baked goods, dairy products, desserts and precooked foods. By studying your product and the desired production, we can create a workstation suitable for your needs.
The company's philosophy is based on a personalised and flexible service that is adapted to the specific needs of each client, searching for new ideas and efficient solutions that also increase production yields.
CONTACT FORMEX MAQUINARIA S.A.