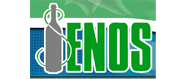 ENOS ETICHETTATRICI SNC
Via P. Testore, 19 - 14053 CANELLI (ASTI) (ITALY)
was established in Canelli in 1976 thanks to the idea of Armando Scagliola, technical designer fond of mechanics, for an autonomous labelling in reduced room, small and average bottle production.
Enos produces labelling machines with glue and adhesive system for a target of small and average wineries: 9,000 machines in all the world underline the story of a company ready to perceive the signals of the market, competent in their interventions and after-sale assistance.
Enos offers adhesive models for label, back label, year medal, both on round and square bottles; machines equipped with capsule closure unit and capsule dispenser with cork detector. 
Reliable and sturdy, Enos labellers have been manufactured to work hard year after year, manufactured in stainless steel AISI 304 and all in compliance with the EC norms.
 Customizing has always been the pride of Enos: labellers implemented with a special head for the application of bi-adhesive DOCG seal and, when necessary, with sensors and bottle positioning with notches, solutions becoming challenges, target to grow.
Enos
INFORMATION
Labelling machines with glue and adhesive system
Small and average wineries
CONTACT ENOS ETICHETTATRICI SNC