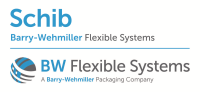 SCHIB PACKAGING SRL

- ORIZONTAL FORM FILL SEAL FLOW WRAPPERS

Viale del Lavoro 7/9 A - 36030 Monte Di Malo (VICENZA) (ITALY)
HFFS HORIZONTAL FORM FILL SEAL FLOW WRAPPERS

Schib Packaging – HFFS Horizontal Form Fill Seal Flow Wrappers. Industrial Applications and Innovation. Designed for production, our HFFS Horizontal Form Fill Seal Flow wrappers guarantee high efficiency, advanced technology, minimal waste and rationalization of space. Cutting-edge electronics and hi-tech solutions characterise our HFFS Horizontal Form Fill Seal Flow Wrappers. Technological innovation favours productivity. Go to our website to learn more about our wide range of HFFS Horizontal Form Fill Seal Flow Wrappers.

HFFS
HORIZONTAL FORM FILL SEAL FLOW WRAPPERS
for food and non-food packaging. Schib's vast experience over the years has resulted in versatility: of sectors, products, and applications. We diversify but we don't necessarily generalize. Ranging from food, to pharmaceutical, chemical, or auto motive products calls for both flexibility and precision. Indeed, Schib's credibility depends on this every day. Schib's R&D department dedicates the utmost attention to each sector. Every day Schib invests time and resources to identify the most suitable technological solutions for the variety of products to be packaged. Focus, attention, and passion. These are the three key words that distinguish the company's work. Nothing is left to chance. Schib is aware of consumers' demands in a market that is increasingly global and evolving continually. Schib listens to its clients, transforming their needs into solutions, putting their suggestions into practice.
CASE STUDY 1: Automatic packaging line for chocolate bars featuring a modular distribution system capable of handling different row formats; acquisition of the product format operated by a vision system; multiple packaging stations with "no product – no bag" function and auto film splicer. Other features: cantilevered design for all modules, easy adjustment and maintenance of the module belts, and gull-wing guarding. It has been developed to maximize efficiency and minimize costs.
CASE STUDY 2: Automatic packaging line for "Layer cake", consisting of row receiving modules, aligning and timing systems, and packaging stations. The system offers high reliability, productivity and quality of the finished product.
CASE STUDY 3: Automatic packaging line for disposable cutlery, with and without band around it. The system includes a Schib CO50 BB flow wrapper with bottom mounted film reel linked to the injection molding system. The solution offers quick production changes and high reliability, in addition to removing any manual operation.
CONTACT SCHIB PACKAGING SRL