CT PACK SRL

- ROBOT CASE-PACKING MACHINE

Via Argine Volano, 355/D - 44034 Fossalta di Copparo (FERRARA) (ITALY)
FOTO DI
ROBOT CASE-PACKING MACHINE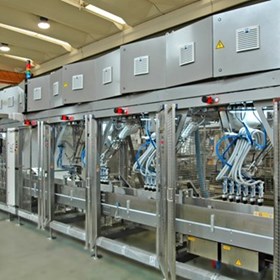 Modular Delta Robot Case-Packing Machine

After several years of development in the food environment CT Pack reached the maximum expression of the "modular" term for design and manufacture of delta robots case-packing machines.
Already known for the high performance level and flexibility CT Pack delta robot systems have been improved adding the complete modular and detached design for the single robotic cells covering the last leap towards what we consider the most innovative case-packing line in the market.

CT Pack already provides different solutions involving delta robot units, which integrated with the complementary equipment go further the simple case-packing, such as flowpack machines feeding, products arranging for display and tray loading with product standing-up, on the edge, stacked; assembly operations on magazines, etc.

This last development simply takes the existing application to the next level , allowing an easy configurable line as well giving the customers open doors to future expansions of already in production lines.

The robotic cells are split in master and slaves, both mechanical and electronic/signal connections are of the fast lock and fast wire type. Each master controls several slaves cells allowing the fast configuration of the line.

Simple control program, integrated (when needed) with vision system, allow this machines to be user-friendly for operator and maintenance teams which can easily move inside the world of packaging possibilities given by the system.
DOWNLOAD AREA