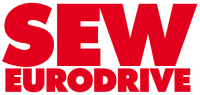 SEW-EURODRIVE

- END LINE FOOD INDUSTRY

Via BERNINI, 12 - 20020 SOLARO (MILANO) (ITALY)
End line food industry
The module "packing / unpacking" of SEW for the end line food industry allows you to deliver products with high dynamics and without stressing the machines, with obvious advantages. The end line food industry system takes the bottles dall'apposito table and inserts them in boxes or on transport tapes at high speed.

The parameterization of the functions of the software application module provide maximum flexibility and allow you to easily define the profile needed to ensure optimal operation of the products.

The MOVI-PLC ® integrated allows a rapid exchange of data between the axles, monitoring and controlling the processes upstream and downstream. The multi-axis servo scalable MOVIAXIS, governs the highly dynamic servo motors to precisely and efficiently.

The servo enable compact configurations contributing to offer a complete solution SEW for the end of the food industry line.
FOTO DI
END LINE FOOD INDUSTRY