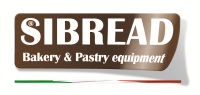 Sibread Srl

- BAKERY EQUIPMENT

Via Dell'Industria, 14 - 36030 Caltrano (VICENZA) (ITALY)
Bakery equipment
Sibread is a company capable of creating a dialogue between past, present and future.
Thanks to the experience of the past, current passion and attention to innovation Sibread is able to offer to the national and international baker's and pastry market a wide range of manual, semi-automatic, automatic and self service bread slicers, moulders complete long loaf and bread mills.
Sibread provides essential machinery in the laboratories of bakeries, pastry shops and supermarkets, but also in the restaurant business, industry and Horeca in general.
Sibread is what you expect from a combination of tradition, experience, passion, technology, reliability, professionalism and quality.