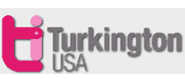 TURKINGTON USA
1200 W Ash St - 27530-9739 Goldsboro (NORTH CAROLINA) (USA)
At Turkington USA, we offer an unmatched breadth of equipment choices and unmatched expertise in the following areas:
• Dough Processing
• Proofing
• Baking
• Product Handling
• Product Cooling
• Pan & Lid Handling
• Conveying Systems
• Asset Care & Management

Product Depanning
Turkington USA depanners are specifically designed to remove bread, buns and other products that have seeds or toppings from pans traveling through the baking process. Various sizes and configurations can work to create the setup that's right for your operation.
The model NCY Depanner is designed for the removal of panned bread products. The RCY Depanner is designed for the removal of baked sandwich buns, and the WCY Depanner is designed to accommodate a combination of bread and bun products in various widths and configurations.