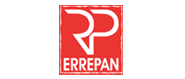 ERREPAN Srl

- CONFECTIONERY AND BREAD INDUSTRY

Via Terracini, 4 - 24047 Treviglio (BERGAMO) (ITALY)
Founded in 1987, Errepan works in the area of equipment for confectionery and bread-making's industry.
The use of certificated materials and technologically advanced machinery allows the company to propose a wide range of products in order to satisfy any particular or specific request of its customers.
Beside the classic products (pan for croissant, plum-cake, single snacks, set for sliced bread moulds, etc…), Errepan now proposes significant newness: the new pans with "little bear" moulds for dropped product, the set of minitoats and minirusks moulds, the pans for rectangular and square plum-cake with paper that do not need pressed die.
The process of production of Errepan s.r.l. is certificated by UNI EN ISO 9001:2008 High Quality System.


DOWNLOAD AREA
INFORMATION
Confectionery and baking industry