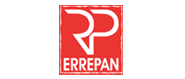 ERREPAN Srl

- METAL BAKING PANS FOR BREAD INDUSTRY

Via Terracini, 4 - 24047 Treviglio (BERGAMO) (ITALY)
Metal baking pans for bread industry
Since 1987 we produce metal baking pans for bread and cake industries. Italian quality, high flexibility in production and close cooperation with the most important plants manufacturers worldwide. ISO certified since 1998.
Working side-by-side with the customer to help him in the choice of the most suitable product, according to the automation level of his production process, being sure of his satisfaction.
Guaranteed qualitative standards | Certified raw material, technologically advanced machinery and skilled labour | Wide range of products | Long-standing experience | Customized products.
Errepan produces a wide range of baking pans for bread and cake industries
DOWNLOAD AREA
INFORMATION
Confectionery and baking industry