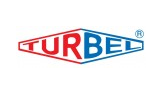 Turbel Europe GmbH

- COATING FOR INDUSTRIAL COOKING

Lehmkaul 5a - 41849 Wassenberg (GERMANY)
Turbelco Endüstriyel Kaplama San. ve Tic. Ltd. Şti. (Turbelco Industrial Coatings Company) was founded in 1992 in Ankara as a Belgian-capital company, with a license obtained from the Foreign Capital Department of the Undersecretariat of Treasury and Foreign Trade, to operate in the industrial coating sector and coating for industrial cooking. It has been operating in the specific field of Teflon® coating as a licensed applicator for DuPont since 1995, with a LIA (Licensed Industrial Applicator) certificate from DuPont.
In 1998, the company moved to its own plant premises in Büyükçekmece, Istanbul . Turbelco continues its investments for full automation in coating for industrial cooking processes in line with its ultimate focus on innovation, while offering solutions for various problems in industry by expanding its range of industrial coatings.
Turbelco offers a production warranty for its coating for industrial cooking and high quality solutions, based on its know-how acquired since 1992 on various coating solutions and its expertise in Teflon® coating. Our production capability enables creation of coatings in various dimensions and numbers.
We extended our efforts to exports by applying Teflon® coating on industrial cooking pans produced by our subsidiary,
Turbel Tava
, and gained a good reputation in developed European countries for our coating quality.
In 2015, we opened our coating for industrial cooking factory in Wassenberg – GERMANY, as our first investment in Europe. Turbel Europe Gmbh is ready to serve all customers who need non-stick solutions in its own premises. By obtaining government subsidy as well, Turbel Europe trusts its quality and provide solutions to its customers locally in western Germany.
DOWNLOAD AREA
CONTACT Turbel Europe GmbH