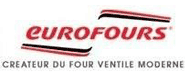 EUROFOURS sa
577, Rue Célestin Hennion - 59144 Gommegnies (FRANCE)
Eurofours has ISO 9001 certification, meaning that its quality is equally recognised for its design methods, manufacturing processes and commercial organisation.
Completes and sophisticated inspection procedures are used throughout the product development process.

1980 On its Gommegnies site, Eurofours S.A. manufactures its first convection ovens.

1986 The range is expanded with the fitting out of shops and fermentation installations to be able to provide turnkey baking terminals.

1991 Angoulvant S.A. joins Eurofours, bringing along its range of rotary and deck sole ovens.

1992 Bouton S.A. joins Eurofours, bringing along its fermentation, deep freezing and general chilling range technologies.

Ponton-Lemeunier S.A. joins Eurofours. This prestigious company 110 years old brings alongs its experience in accumulation ovens.

2000 Pierre Pont, society specialised in fermentation, deep freezing and storage bringing its experience in cold.

2003 All these societies are amalgamated in the Eurofours group

2005 Jolivet, society specialised in deck ovens joins Eurofours

2007 ARPIN, specialist of pastry ovens and professional handling joins Eurofours.

Write to ItFoodOnLine to contact: (EUROFOURS sa)