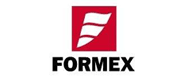 FORMEX S.A.
Av. Alfonso XII - 605 - 08918 Badalona (BARCELONA ) (SPAIN)
Hornos Formex S.A. manufacture products for the sector of the Hostelry and Pastry for little, medium and big productions. Of they derive it three main lines of own production:
Filling machines
Ovens for pastry
Ovens for pizzeria.
Our products are very considered in the market by their quality and durability.

As maker of filling or dosers machines of small and medium production, Hornos Formex S.A. is the only Spanish maker of the market. Hornos Formex S.A distribute their products in all Spain and they export Chile, Mexico, Finlad, Miami, North of Africa, among other places.