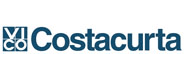 COSTACURTA S.p.A. - VICO

- WIRE CLOTH FILTERING DISKS FOR THE PRODUCTION CACAO

Via Grazioli, 30 - 20161 Milano (MILANO) (ITALY)
Wire cloth filtering disks for the production cacao
Costacurta S.p.A.-VICO is an Italian company specialized in the design and manufacture of metal components for industry and architecture, serving markets worldwide.
Costacurta has gained consolidated experience in the design engineering and manufacturing of metal conveyor belts for applications that require temperatures ranging from approx. -150°C to +1.150°C. The conveyor belts are used in numerous industrial processes and sectors, from metallurgical engineering, to pharmaceuticals to food processing.
Costacurta cloths can meet the specific needs of innumerable applications in very different industrial sectors. Thanks to an extremely long experience in weaving and strict Quality System checks, Costacurta is able to produce all kinds of cloths including special types, with very high quality always guaranteed. Flexibility and respect for delivery times, even when critical, are made possible thanks to the number and the qualitative level of the looms, to organizational flexibility and a large quantity of cloths ready for use in stock.
Drawing on its wide experience in the development and refinement of products, today Costacurta produces a vast variety of filtering elements which are used in innumerable applications in extremely diverse industrial sectors.
Cocoa processing begins with grinding the cocoa beans to liquefy the cocoa butter inside them. This first process produces a thick paste called cocoa paste. The cocoa paste is pressed to obtain cocoa butter. The part remaining after pressing, called the cocoa cake, can be turned into cocoa powder in a further grinding process. Processing cocoa beans thereforeproducescocoa paste, cocoa butter and the cocoa cake, which are then mixed with other ingredients to make chocolate.
Costacurta's wire cloth filtering disks are used in the cocoa paste pressing process. The machines used in this process are cocoa presses. These are hydraulic presses that compress the cocoa paste at a high pressure against a metal filtering disk. The high pressure causes the cocoa butter to liquefy, which is then separated by the filtering disk and collected. The result of this pressing is the separation of the liquid cocoa butter from the cocoa cake.
The wire cloth filtering disks are made by Costacurta in stainless steel to guarantee the highest level possible of cleanliness and hygiene. In addition, they are plasma cut in order to minimise the risk of pieces of wire coming loose. The use of suitable raw material also allows the machine operator, thanks to the action of special magnets, to remove any metal particles present in the cocoa powder.
In addition to the basic filtering element, Costacurta can, starting from the drawings supplied by its customers, create manufactured articles using production processes such as rolling, bending, welding and mechanical machining.
Their are also qualified suppliers of leading international companies that are involved in developing technology and providing engineering services and equipment for oil & gas, petrochemical and chemical industries.
Furthermore, their offer supervision during installation and assist our clients in the development of new products.
INFORMATION
Filtering elements and fabricated parts; conveyor belts; components for the oil, petrochemical and chemical industries
Bottling, packaging, food industry
with a covered area of around 40,000m2
ISO 9001, ISO 14001, OHSAS 18001
Unione Industriali di Lecco
Costacurta b.v., Santpoort Holland
CONTACT COSTACURTA S.p.A. - VICO