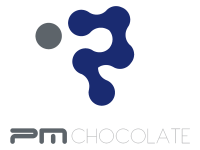 PMChocolate

- CHOCOLATE MOULDING LINES

Via Gian Lorenzo Bernini 5/7 - 20094 CORSICO (MILANO) (ITALIA)
Chocolate moulding lines
These types of chocolate moulding lines provide maximum flexibility in production; thanks to their modularity, they can be used in a variety of configurations.

All versions and chocolate moulding lines respect and meet the highest standards of hygiene, constructiveness and manual efficiency; in fact they are easy to clean, they give you the possibility of choosing the manufacturing material and they are easy to control and operate. Extremely accurate and reliable, they ensure maximum productivity in complete safety.

The main configurations are:

Shell configuration
Coupled moulding line
Painting production
Drops line

Shell configuration

These chocolate moulding lines are available in semi-automatic (suitable for small products) and fully automatic (suitable for large products) versions.
The range of the moulds go from 275mm to 1200 mm for production capacities from 180kg\h to 3000 kg\h.

Coupled moulding line
PMCHOCOLATE

Line used for bars with and without solid ingredients. These chocolate moulding lines are fit to produce top performance one kilo blocks: particularly suitable for large-scale production, they offer reliability and quality.
Moulds from 500 to 1200 are used and the productive capacity is 40 moulds per minute. These chocolate moulding lines are strong, easy to clean with a high and safe productive resistance.
Painting production

The company's pride and joy are the depositor chocolate moulding lines created from the development of the new EASYCHOCOLATE ECD design. It is an absolutely innovative machine, able to work on the 3 Cartesian planes.
They are intuitive and easy to program, and used for the average production of hollow objects, flat multicolour and lollypop.
Drops line

These are specific chocolate moulding lines for semifinished products with weights ranging from 0,08 gr to 5 grams. These chocolate moulding lines are composed of a conveyor belt and work with HPD technology (piston movement).