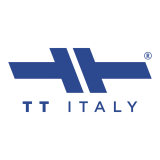 TT ITALY SPA
V.le G. Mangiarotti, 15 - 33033 Codroipo (UDINE) (ITALY)
Industrial cake lines
TT ITALY: THE BEST SOLUTION FOR YOUR INDUSTRIAL CAKE LINES
TT Italy S.p.A was founded in 2003 by two hard-working and innovation-inspired Italian entrepreneurs and is specialized in the engineering and manufacture of Industrial Cake Lines, specifically regarding the production of sponge cake snacks.
Cutting edge technology, integrity, reliability, experience and a continuous research of a specialized staff are the core values of TT Italy that have made it become a benchmark and world leader in the sector over the years.
TT Italy's main core technology is the Turbo Mixer emulsifier-aerator, which is born from avant-garde technology developed by our engineers in order to guarantee a perfect emulsification and aeration of the product through the injection of air or Nitrogen,
assuring consistent results and a fully automatic mixing process.
TT Italy's Turbo mixer is the best solution to preserve the desired density and a homogenous texture of your product, thanks
to the Double Cooling System, which permits a constant control of the process. Another important feature is that the rotor and the stator, which compose the Turbo head, are created from a single solid stainless steel monoblock using EDM (Electric Discharge Machining) to ensure integrity, durability and superior mixing performances and precise control of the process temperature. In addition, the rotor and the stator geometry and design allow a high number of pins over the mixing head surface, ensuring an unparalleled mechanical mixing, shearing power and an effective heat absorption. This specifically designed
Turbo head is patented by TT Italy, as well as the sealing system, which is engineered to ensure the total insulation of the Dual Cooling System of the Turbo Mixer Head.
TT Italy, besides being a pioneer of the Turbo-aerator technology, offers tailor made solutions to the customers, embracing all the possibilities that the Cake world provides. Innovative and high performance results are engineered by TT Italy's team, offering a complete support throughout the entire process, from design to start up.
With a TT Italy Full Sponge Cake Line, you will produce tastier, softer and lighter products, such as Swiss rolls, Girella, Chilled layer cakes and Tegolino cakes.
In addition, with a Full or Semi-Automatic Cake line you will be able to make products of several shapes and s such as Cupcakes, Muffins with or without filling, Twinkies, Chiffon and Donut cakes.
To assist customers in developing new products and to improve TT Italy's equipment performances, a company specialized in food technology R&D, called TT LAB, was founded.
Our in-house R&D service is made of a professional team of food technologists who provide help and assistance to the customer in order to reach the most suitable solution according to his needs and requirements.
The main interest of TT LAB is to achieve, together with the customer, the best result by starting from his ideas, providing a complete support and continuing with an after sales assistance.
TT Italy makes a concerted effort to manufacture machines that will allow consistent, predictable results and add value to your product with a maximum control in every step of the process: Mixing, Aeration, Emulsification, Transfer, Deposit, Injection and Sanitization. As regards to the Deposit and Injection phases, TT Italy has engineered the Volumetric Piston Depositor/Injector. The main objective of these machines is to perform a perfect dosing of the batter into trays or to inject fillings with high level of accuracy into the product.
In order to avoid possible damages in the structure and in the aeration, TT Italy has developed a unique system, composed of Turbo and Depositor/Injector.
This system has been engineered to guarantee a complete and constant control on the depositing/injecting process, maintaining the aeration and the density unaltered. This process ensures no contamination with the external environment and no need of operator.
COME AND VISIT US AT INTERPACK, HALL 3 STAND 3B73 TO FIND THE BEST SOLUTION FOR YOUR DEMANDS!