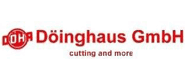 Doinghaus Maschinenbau GmbH
Schlinger Straße12 - 33129 Delbrück (HAGEN) (GERMANY)
Our equipment incorporates know-how that has been perfected over seven centuries. Founded in 1932 the family-owned business served mainly regional customers for a long time. 20 years ago we set the course for a change of track. For the first time we introduced our special equipment to international markets – and were successful.

Today, with our 30 employees we achieve more than half of our sales volume through export. What our national and international customers appreciate particularly is that we supply user-friendly and high-quality equipment.
Good consultation is by all means part of the deal.
We are committed to contributing to an efficient organisation of our customers' production sequences.
If required we will visit our customer's site in order to test the functional scope of our machines on-site, under authentic production conditions.

You also have the option of testing various cutting technologies at our premises with the support of our specialists to find the perfect solution for your product
Cheese, Meat, Tarts and cake bases, pastry cakes, dough and dough lines, Muesli bars, cream rolls, fruit loafs, plate cakes, fruit cakes, bread, pizza, caramel – for all this and much more we can provide made to measure cutting equipment.

Whether warm or frozen, homogenous mass or a multi-layered finished product, manual feeding or a fully automated all-round system, our company adapts flexibly to all of our clients' requirements.
CONTACT Doinghaus Maschinenbau GmbH