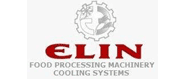 ELIN F.D.
25th km. Kato Sxolari - 57500 Thessaloniki (GREECE)
ELIN Is A Well-Established Company Since 1968 With A Long-Standing Experience In The Manufacturing Of
Food Processing Machinery.

It Is Managed From People With Many Years Of Experience And Skills In The Field Of Catering And Has Gained An Excellent Reputation Among Its Collaborates And Customers Throughout Greece And Internationally.

With Continuous Efforts In Research From People With Experience And Knowledge In The Field Of Bread And Confectionery, The Company's Aim Is To Help Its Customers, By Offering Them What The Latest Technology Has To Offer In Advanced Machinery, With Goals Of Simplicity And Speed In Mass Production.

ELIN Are Pioneers In This Specializing Machine Manufacturing Business And Continuously Introduce New Business Horizons To Its Customers.

ELIN Also Holds Many Years Of Experience In The Field Of Refrigerating.