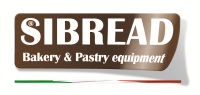 Sibread Srl

- BREAD SLICERS

Via Dell'Industria, 14 - 36030 Caltrano (VICENZA) (ITALY)
Bread slicers
Sibread is a company capable of creating a dialogue between past, present and future.
Thanks to the experience of the past, current passion and attention to innovation Sibread is able to offer to the national and international baker's and pastry market a wide range of manual, semi-automatic, automatic and self service bread slicers, moulders complete long loaf and bread mills.
Sibread provides essential machinery in the laboratories of bakeries, pastry shops and supermarkets, but also in the restaurant business, industry and Horeca in general.
Sibread is what you expect from a combination of tradition, experience, passion, technology, reliability, professionalism and quality.
VARIABLE BREAD SLICER MOD. VENUS
VENUS is a Variable, Efficient, Nice style, Universal Slicer for cut the bread with the thickness of slice that you desire.
It is a bread slicer where is possible to cut the bread in different kinds and whit different slices thickness Bread Slicer with variable pitch that allows you to cut the bread accurately in half and in slices of the desired thickness from 4 to 30mm.
Suitable for different types of bread thanks to the Teflon blade which allows a flexible use of the machine.
Is possible to have it bench type or with a base complete of wheels.
Complete with control panel easy to use and safety systems.
External structure and parts in contact with the bread are in stainless steel.
DOWNLOAD AREA