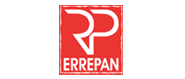 ERREPAN Srl

- BAKING PANS FOR PIZZA PRODUCTION

Via Terracini, 4 - 24047 Treviglio (BERGAMO) (ITALY)
BAKING PANS FOR PIZZA PRODUCTION
Since 1987, Errepan has been producing metal baking trays for confectionery and bakery industries, including baking pans for pizza production Italian quality, high production flexibility and collaboration with the world's leading construction equipment manufacturers. ISO Certificates since 1998.

Accompany the customer in choosing the baking pans for pizza production is most suited to their needs, based on the operating conditions and the degree of automation of their process, with the certainty of its satisfaction.

The use of certified materials and technologically advanced machinery allows the company to guarantee high quality standards and to propose a wide range of products and measures that meet specific and specific requirements of its customers as well as looking for sub-supplies for pastry industry Or baking trays.

Guaranteed quality standards Certified materials, technologically advanced machinery and specialized manpower Wide range of products Long experience in the field | Ability to develop personalized products.

Errepan produces a wide range of baking pans for pizza production.

The baking pans for pizza production are in perimeter frame with rounded corners and no welds, can be made of sheet metal with antitravel, drawn or tubular plate. Aluminum or stainless steel sheet strips.


In addition to classic products (ovens, muffin molds, baking trays etc ...), the company today offers important novelties: the new "tinsel" bowls for cast iron products, minitoast cassette frames and Mini sliced pie, square and rectangular cup-shaped pans that do not require a baking mold. It is also worth mentioning the possibility of customizing products with brand and / or customer name. The baking pans for pizza production of Errepan is currently certified by the UNI EN ISO 9001: 2008 Quality System.
INFORMATION
Confectionery and baking industry