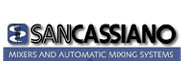 SANCASSIANO S.p.A

- ALIMENTARY PLANTS

Via C. Cavallotto, 8 - 12060 Roddi d'Alba (CUNEO) (ITALY)
SANCASSIANO SpA, founded in 1962, was since 1980 the first firm focusing its production on mixing equipement and automatic mixing plants for the production of alimentary dough.
The range of equipment is composed by several different products: spiral mixers, double spiral mixers, twin arms and French fork mixers up to the modern and patented Global Force and Hydra, realised with fixed or removable bowl. Other equipment belonging to SANCASSIANO range of products are: tipping-elevators for bowls, portioning hoppers, belt conveyors ... For the industrial production of cakes and creams, the planetary mixer with double tool bowl scraper and pressurized bowl is available, both in the traditional "bridge shape" or in the new more compact "C shape". As for automatic equipment to the mixing room, SANCASSIANO offer a complete range of products, at different investment levels. From self-tipping mixers to elevator-mixers, revolving Carrousel, linear Robot and Continuous spiral mixing systems.


INFORMATION
production on mixing equipement
CONTACT SANCASSIANO S.p.A