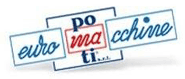 POMATI srl

- CHOCOLATE PROCESSING

Via Aldo Moro 14/16 - 26845 Codogno (LODI) (ITALY)
chocolate processing. The wide range of models is addressed to customers belonging to small confectionery laboratories, medium-sized and catering industry. The forty years-long experience is mixed to modern technology to create products, which are always modern and correspond to the market's requests.
POMATI SRL manufactures machines for
INFORMATION
machines for chocolate processing