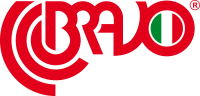 BRAVO SPA

- ICE CREAM

Via della Tecnica, 5 - 36075 Montecchio Maggiore (VICENZA) (ITALY)

Bravo supplies a complete service: from production machines to display cabinets, from shop interior design to furnishings, from professional training to marketing advice. In other words: machines for ice-cream makers and confectioners plus advice on how to run complete, fully functional ice-cream shops.
Ever since its foundation in 1967, Bravo's history has been built upon innovative products and successful ideas. Bravo's contribution makes it possible for ice-cream makers and confectioners to maintain a top quality standard in their products.

BRAVO spa is situated at the foot of the Berici hills in the small city of Montecchio Maggiore, Italy, overlooking Vicenza, the town where the famous Arch. Andrea Palladio worked during the Renaissance. Montecchio Maggiore is easy to reach from all directions and today is an international point of reference for those seeking innovative solutions for ice-cream shops and confectioners.
INFORMATION
Machines for ice-cream shops and confectioners
Ice-cream shops and confectioners