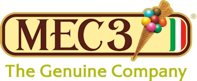 Mec3 di Optima srl

- INGREDIENTS FOR ARTISANAL GELATO AND PASTRY PRODUCTS

Via Gaggio, 72 - 47832 S. Clemente (RIMINI) (ITALY)
INGREDIENTS FOR ARTISANAL GELATO AND PASTRY PRODUCTS
Mec3 is an Italian company leader in the world for the production of ingredients for artisanal gelato and pastry products.
Mec3 produces widw rage of ingredients for artisanal gelato and pastry products.

To spread the passion for artisanal gelato is MEC3's mission, currently protagonist in over 130 countries worldwide. Established in 1984 by Giordano Emendatori, today part of an important international group, Mec3 has always been synonym of high quality and a global benchmark for professionals in the sector. Recognized as one of the most dynamic companies in Europe by Entrepreneurs for Growth, MEC3 is the first in its sector to have obtained, in 1997, the certification of its quality system according to the ISO 9000 standards, issued by the prestigious German authority TuV CERT Suddeutschkland..


The Production plant, situated in San Clemente, Rimini, is organized according to the Lean Production method: an industrial philosophy which aims to minimize waste and to annul it. Here a vast assortment of ingredients for artisanal gelato and pastry products: bases, neutrals, pastes and variegates are created for the production of authentic Italian gelato. One of Mec3's most popular, unique products is Cookies®, the biscuit-gelato created in 2001 that quickly transformed the world of gelato, becoming the first one and only cream & crunch flavour. Also the product Quella® deserves a special mention, it's the first hazelnut and cocoa cream for gelato that doesn't harden at low temperatures: launched by MEC3 in 2009, today has an 'extended family' with Quell'altra®, Quello®, Quell'altro®, Quella là® and Quella li®. Without doubt MEC3Bio stands out amongst the numerous proposals, a range of products for artisanal gelato 100% organic complete with European certification. MEC3 also pays great attention to training through the prestigious International School of Gelato, the first in the sector to have introduced the one to one teaching method: small classes with fully equipped individual workstations in order to put into practice immediately what is taught by the teacher. A school which puts a great deal of care into providing all the necessary instruments to embark on the path for success!
The Genuine Company is the spirit of those who live and work every day in MEC3, it's our philosophy, our point of view. It's what makes us who we are, inside and outside our company. Above all, we have adopted an attitude to which we always try to do our best in everything we do.
Basically , our conduct and methods of communicating are simple: we want to share them with people like ourselves and reveal them to those that haven't yet discovered them. Based on six fundamental values: Transparency, Quality, Variety, Ethics and Smiling, and Safety. They belong to us, but if you wish to share them with us we will be only too pleased.
In order to always give our best we bend over backwards by investing every year in research and development, we work hard in our sensory analysis laboratory and we strongly believe in the importance of quality control.
INFORMATION
production of ingredients for artisan gelato and pastry-making
CONTACT Mec3 di Optima srl