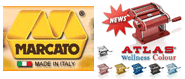 MARCATO SpA
Via Rossignolo, 12 - 35011 Campodarsego (PADOVA) (ITALY)
MARKED, MACHINERY AND EQUIPMENT FOR PASTA
Marcato is characterized by the continuous technological evolution and the experience gained in 60 years of qualified presence in pasta machines. Marcato's products are distributed in the domestic and foreign markets, and the sales network runs around the world. As a result of the position gained on the market Marcato S.p.A. Is the exclusive technology partner of the WHIRLPOOL group for the pasta industry.
The pasta machines and all accessories of the Marcato line are produced exclusively in Italy and are proud of Made in Italy representatives at numerous international fairs each year.
Here is the site of Marcato.
Marcato S.p.A. Works in the field of the production of pasta machines for homemade use. Marcato's headquarters are in Italy, in Campodarsego, in the province of Padua. In the various factories that occupy an area of ​​about 15,000 sqm, they work about 85 people. The production activity was started at the artisan level in 1938 by Mr Marcato Otello and over the years it has evolved to the present dimensions. To date, Marcato S.p.A. Has advanced technologies that offer customers high quality and reliability guaranteed products at competitive prices.
Confirmation of the high technological level is due to the high number of patents and ornamental models registered over the years and the three-year warranty on its own products, which is the only one among industry competitors. From the long experience in the construction of manual pasta machines, the new Linea 3 Facile was born, combining with its Pasta Mixer, Pasta and Pasta & Pizza products the tradition of practicality. New rollers WELLNESS Marked: table well being, well-being of life, all range Marcato uses the new tirapasta Wellness rollers: they are made in a special lightweight alloy, an EXCLUSIVE PATTERN of Marcato that guarantees a 100% pure and healthy home-made pasta. WELLNESS or no residue on the sheet, no oxidation or alteration to water contact with the utmost ease of cleaning.
WELLNESS as education for good nutrition: a vision of life for which health and psycho-physical well-being are increasingly sought after as a real lifestyle. WELLNESS like Marcato's "Good Star" culture that begins with healthy eating, from rediscovering traditional flavors and genuine ingredients.
Like pasta, the symbol of the proper Mediterranean diet, made homemade with simple and selected ingredients. Only Marked can therefore guarantee a pure, healthy, and controlled look: and just because we are confident of the excellence of our products, we guarantee them 3 years.
ATLAS 150 is the most versatile of manual pasta machines and is also the most sold.