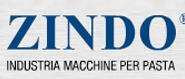 ZINDO SRL
Via Foggia, 71/73 - 70051 Barletta (BARI) (ITALY)
ZINDO designs and manufactures pasta, fresh pasta plants, dry pasta plants and other pasta technologies with the expertise that comes from over thirty years of experience in the field, innovation possible thanks to continuous research and control over
A production process that ensures the excellent quality of the machinery.
Thanks to this, it has been possible to obtain trademarks, technologies and patented designs over the years.
The new methods of producing pasta must ultimately result in an increasingly natural product, matching the tradition of appearance and taste and at lower cost without compromising on quality.

This is achieved with more efficient and effective equipment and machinery.
In the professional dialogue with operators and industry leaders, we seek to offer modern technologies that in many cases establish innovative criteria for effective, but non-aggressive, and efficient treatment processes leading to significant energy and time saving both in use and in
Cleaning and maintenance, as well as increasingly automated solutions to allow low labor costs.
The attention to the safety and sanitization of any machinery under design makes ZINDO machines above the industry's highest standards.