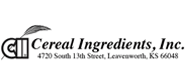 CEREAL INGREDIENTS INC.
4720 South 13th Street - 66048 Leavenworth (KANSAS) (USA)
Cereal Ingredients Inc., has seven worldwide ingredient and process patents and has filed for four additional patents. The company enjoys the special role of helping customers make new products and innovations a reality.

The company produces food particulates that add flavor, texture and color to baked goods and ready-to-eat (RTE) cereals, as well as pre-blended mixes to create added flavor and swirl effects in bread products. Called Flav-R-Bites®, the particles are specially formulated for specific client needs, are offered in a variety of sizes, flavors and textures, and are produced using CII's patented product and process technology. In addition to baked goods and cereals, other food applications include ice cream, nutritional foods, streusel, and other crunches and toppings.

CII's newest product line, Nutri-Bites soy, is being produced by the expanded twin screw extrusion capacity in the new Cereal Ingredients Technology Center. This new line of soy based crisps and balls have been added to the Nutri-Bites® family of health and wellness products and follows the successful launch of the Nutri-Bites Whole Grain Balls in 2007. Cereal Ingredients R&D is developing other innovative nutritious Nutri-Bites products that will be marketed in the near future. Nutri-Bites®, consists of particles with special nutritional qualities such as extra levels of protein, vitamins or minerals. Most Nutri-Bites are used in high nutrition food bars.

INFORMATION
flavor, texture and color to food product applications
food particulates that add flavor, texture and color to baked goods and cereals
Cereal Ingredients, Inc. creates a variety of food particulates that can be used in a wide range of applications. Ask us how we can enhance and flavor your products.
CONTACT CEREAL INGREDIENTS INC.