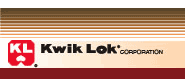 KWIK LOK CORPORATION
P.O. Box 9548 - 98909 Yakima (WASHINGTON) (USA)
Kwik Lok manufactures bag closures, bag closing equipment, (semiautomatic and automatic) printers for bag packages and custom printed bag closure labels. The all plastic bag closure is easier to open than wire ties (twist ties) and tape and offers the consumer a package that is easy to open and easy to reclose.

The packager can print freshnes dating, lot codes, prices and other critical information on the all-plastic bag closure. Consumers find the printed closure is easy to read.

Benefits of owning a Kwik Lok System are: Unsurpassed production speeds; Low initial investment cost; Low maintenance costs; Minimizes crippled packages; Minimizes spare parts inventories; Low downtime rates; Low replacement costs; Low repair costs.

The all-plastic closure also offers a practical surface to print price, freshness dating, lot codes, etc. Using a Kwik Lok System the packager has one system that will CLOSE and PRICE a bagged package.

Labels can also be applied to the closure offering packagers a very low-cost method of labeling a bagged package. Labels are also an excellent media to promote product sales. The labels can be used for in-store coupons, cross-advertising, games, contests, local promotions, etc.

Kwik Lok operates six production plants around the world, producing billions of bag closures every year for the flexible packaging industry.

Write to ItFoodOnLine to contact: (KWIK LOK CORPORATION)