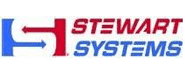 Stewart Systems Inc.
808, Stewart Avenue - Plano, TX 75074 (USA)
Stewart Systems is a focused group of engineers, scientists and craftsmen dedicated to understanding the needs of high volume production in the baking industry and constantly improving our equipment to meet the needs of our customers.

Our reputation for systems design is complimented by superior unit equipment ranging from proofing and baking to pan and tray handling. Our customers know us as a service-oriented supplier that stays in continuous contact throughout our products life cycle.

From its beginning in 1947, Stewart Systems has been known as an inventive and creative company. Stewart Systems quickly built a reputation for reliability and performance throughout the baking community.

Today, Stewart Systems manufactures a complete line of unit equipment and systems for a global community producing high volumes of bread and buns for an ever growing market, including fast foods, worldwide.

Write to ItFoodOnLine to contact: (Stewart Systems Inc.)