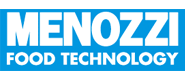 MENOZZI LUIGI & C. SPA
Via Roma 24/a - 42020 Albinea (REGGIO EMILIA) (ITALY)
Menozzi Food Technology is the leading enterprise when it comes to manufacturing machinery, equipment and creating technologies for processing, curing and storing meat. But also for all the intermediate phases, with particular attention to the charcuterie sector.

The company has also grown as to production departments, and has given lots of space to the new construction technologies. Pioneering machinery for processing stainless steel and aluminium guarantees high quality products that the company can certify, from the start of the production chain through to the installed and tested system.

Moreover, computerized storage systems achieve optimized management of both processes and spare parts.
Everything is checked and stored in a thorough way, from the time the raw materials arrive through to assembly and shipment.

CONTACT MENOZZI LUIGI & C. SPA