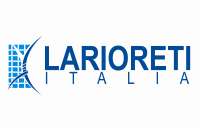 LARIORETI ITALIA SAS

- WIRE NETTING FOR THE MEAT INDUSTRY

Via Piloni, 2/4 - 23900 LECCO (LECCO) (ITALY)
wire netting for the meat industry. In our field, unlike those who only offer standard products and large supplies, we are the ideal partner for those with special requirements, such as small-scale production, advice about solutions and especially total product customisation, both in terms of measurements and materials.

If you look for a supplier who is able to recommend the best product to meet your needs and then to make it with the measurements, material and in the amount that you need, in a very short time and with the reliability of a quarter of a century of experience, you have found the right one.

DOWNLOAD AREA
INFORMATION
Wire netting for the food industry - Wire netting for the canning industry - Expanded sheet metal for conveyor belts - Conveyor belts for warehouses - Conveyor belts for bread-making - Conveyor belts for confectionery industry - Conveyor belts for meat industry - Stainless steel conveyor belts
CONTACT LARIORETI ITALIA SAS